Welcome to the Make It A Home Blog Hop & Treasure Hunt hosted by Anitra from The MamaZone. We hope you're ready to win some great prizes for your home and some cash to help you make your house a home! This giveaway hop is a little different than most because it has the added element of a cash treasure hunt! As you hop through, entering the giveaways on these fabulous blogs, keep your eyes open—you just might find some hidden cash! Here's how it works:
Visit each blog listed below and enter their giveaways.

Look for the mailbox on each blog. If it contains a three digit code, make a note of it.
Once you collect all 5 randomly hidden codes, enter here to win the Grand Prize of $100 and a Mint Floor Cleaner.

As an added bonus, if you enter every giveaway involved you'll earn 11 extra entries into the Grand Prize drawing (Sweet!).
The hop and hunt will run May 1st-May 14th and the Grand Prize winner will be announced on the 15th. Ready to win? Here's what I'm giving away:
Mohawk Home, the rug division of Mohawk Industries, is the largest manufacturer of area rugs, indoor and outdoor mats, and washable rugs in the United States.

Because we participate in a fashion industry, Mohawk Home employs a team of design professionals specifically recruited for their expertise in textiles and floor covering innovation. With a commitment to relevance in style we are continuously creating trend setting designs and constructions as well as updating timeless classics.
We just moved into our house a few months ago. With this new house came mostly hardwood floors, the girls room and both closets are the only areas with carpet. I don't really like the look of just the hardwood floors so we have rugs throughout the house. I really needed a rug for the master bedroom though and Mohawk Home came to my rescue.
I was told to pick out a rug and I had the hardest time, there are so many choices! So after narrowing it down and then narrowing it down some more I finally picked this one: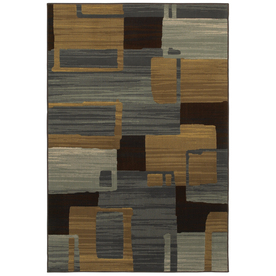 I needed something that would go with our bedroom and this was better than I even thought! Now it's

5'3" x 7'10" which I am more of a visual person so I just hoped it would fit where I wanted it to go.
It fits perfect! It is so soft and plush, much better quality than I even expected. The cat loves it as you can see by all of the cat toys. And my girls love to come in my room and sit on the rug while they read stories. They call it the magic carpet. If that wasn't enough, shipping was super fast too - it was at my house in a matter of days.
Visit www.mohawkhome.com to purchase a rug of your choice.
When going to their Facebook page, if you'd like thank them for the giveaway
.
1 winner will receive any Mohawk Home rug .
(

up to size 5x8 and under $150

)
Enter the email address you'd like to be contacted at if you win.
Only mandatory entry is to enter your email address.
All other entries are optional but the more you do the better your chances are of winning.
Please use the widget below for your entries
(comments do not count as entries):
Now, visit the other great blogs below!