Welcome to the BloggerPR Kickoff Giveaway Hop!
We are celebrating the launch of
BloggerPR
, which is a brand new support and media group for bloggers. Over 50 blogs are giving away some amazing prizes valued over $25! This event will run from May 21-27, 2012. Join us as we kick off a brand new and exciting venture for our members!
There is a scene in the romantic comedy
My Big Fat Greek Wedding
where the father uses Windex as a way to fix everything. As funny as that notion is… it's not actually true and we DON'T recommend trying it. However, it has been said that
Aquaphor
products are the "duct tape of dermatology" or "miracle goo" and people continually tell us how it helps their various skin needs, reminding them of how Windex helped Mr. Portokalos.
I have used Aquaphor products in the past but it has been a while. So, I was super excited to be a sent a set of products to try.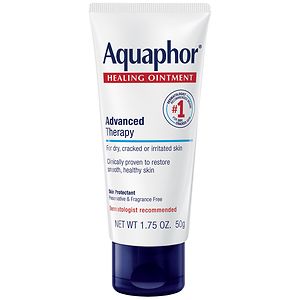 First thing I received was
Aquaphor
Healing Ointment
, this
is a dermatologist and pediatrician trusted product that helps protect and relieve dry, cracked skin. It provides effective soothing relief for dry skin and its mild formula is safe for external use on your baby's most delicate, sensitive skin.
This one I have used before but I was excited to try it again. I used this for everything. I have really dry skin on my hands. I am a toddler teacher and I wash my hands all day every day. They get so dry that I get cracks in my skin. This really helped to speed up healing.
I also used it this on my daughters severe chapped lips that never seem to get better and they are already looking much better after just a couple days. My youngest daughter has some dry skin patches on her back right now and I put some on those. She said that it didn't burn (many products do) and that it helped with the itchiness.
In my classroom I used this on my toddlers chins because they are teething and drooling everywhere, this really helps to protect them. I have also used it on their runny noses to help protect them from getting chapped.
So in short I love this product. I love that it is not greasy and a little goes a long way. I also love the wide variety of uses it has.
I also received the

Aquaphor

Baby Gentle Wash & Shampoo,

a pediatrician-recommended cleanser that gently cleanses both skin and hair. Enriched with soothing chamomile and pro vitamin B5, the tear-free formula is specially designed and clinically proven to be mild enough for baby's sensitive skin.
Both of my girls have eczema, so their skin is sensitive and very dry. This lathered up well and was gentle on their skin. It did not dry them out like so many soaps do. I especially love that this can be used as a shampoo for their dry itchy scalp. The only thing I wish is that I had known about it sooner.
1 winner will receive Aquaphor Healing Ointment,
Aquaphor Baby Gentle Wash & Shampoo
AND a $50 Visa gift card.
Aquaphor would like to hear from you on their
Facebook
page:
Share an experience Aquaphor has helped out with for you or a member of your family – has it been your "duct tape of dermatology"?
*Note: This is not required but appreciated.
HOW TO ENTER
Enter the email address you'd like to be contacted at if you win.
Only mandatory entry is to enter your email address.
All other entries are optional but the more you do the better your chances are of winning.
Open to residents in the US only - 18 years old and above
Please use the widget below for your entries
(comments do not count as entries):